<![if !vml]>

<![endif]>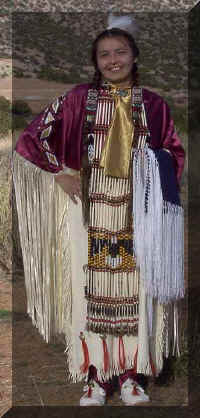 Traditional Clothing is an important part of our Native American Ceremonies. In powwow or traditional ceremony it becomes a statement of our connection to the old ways, the ancestors and the elders that have sacrificed so much that we can still have the spirituality that has always been so important.
In powwow these Traditional Clothes honor the elders and are often as healing medicine to those that are ill. Categories and Clothing have done much to cross over and bridge the gap between our Native American Nations to create more understanding and in some cases even eliminate old animosities.
From moccasins that tread lightly upon our Mother Earth, to the skins that honor our animal relations, to the intricate beadwork that diffuses and reflects the light from a life-giving sun, all the way to the feathers that represent our prayers to Creator.
Our seamstress and crafts people can create for you any or all of the clothing you may need for powwow or ceremony. Whether Northern Traditional (as pictured above) or any category, men's or women's, we can create it to suit your needs. We have some very beautiful pure white chrome tanned leather, or many other colors, for skirts or leggings, pants, fringe, etc. We do either leather, fabric or beaded capes. All categories of powwow dance clothing: Northern or Southern Traditional, Fancy Feather or Shawl, Jingle or Grass. All accessories such as: breastplates, bustles, headdresses, moccasins, shawls, belts, etc. Sorry, no way to price these items generically in our online catalog without knowing your measurements, requirements and grade of materials you wish since there are so many choices. Just let us know your needs, and we will be glad to provide you with pricing.
We also do men's and women's ribbon work, both shirt/blouses and dresses.
Blanket capotes have also become quite popular. They are available in both wool Pendleton and acrylic fleece prints, with and without hoods, wrap, button and zipper styles and in long and short styles.
Men's Fleece Jackets and Blanket Capotes are also available.
Women's Shawls for every occasion
Powwow and Traditional clothing price quotes will be given upon a written request from you as to your needs.
Direct inquiries about pricing or ask other questions about clothing to:
support@nativeamericantrade.com
This page has been viewed
times since last reset