<![if !vml]>

<![endif]>
Star Quilts carry on a rich Native American tradition, and our quilts honor that tradition. The Star Quilt has been a part of Native American tradition and medicine for hundreds of years. It is a symbol of the Morning or Dawn Star. Star Quilts have been used for beauty, warmth and healing, and is even a very important part of many Native American Ceremonies. For example a Star Quilt is wrapped around the bride and groom as part of many traditional wedding ceremonies.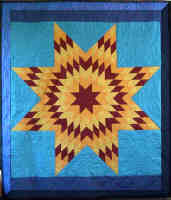 Since our quilts are quality hand crafted with a minimum of machine work, each one is a unique work of art. Hand Crafting also means that even if you choose the same colors and pattern, it will still have a unique character all of its own.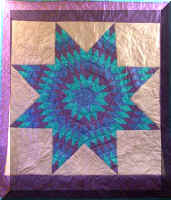 We offer these beautiful and individually crafted quilts to you to bring love and tradition into your home. Each is made for YOU, so no two are exactly alike and all quilts are signed and dated by the quilt-maker.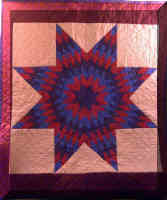 Special designs can often be stitched into the areas around the star as shown in many of the quilts here. Just click on any photo to see an enlarged picture for more detail. Let us know and we will do our best to accommodate your needs. We also have a variety of artwork available for our quilt-maker to choose from if that is your preference.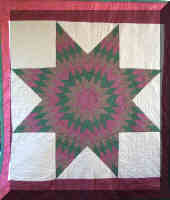 Meticulous care is given to assure that all star points meet properly and that all seams are well sewn. You can depend on the quality craftsmanship of our quilts to mean that you will be enjoying it for many years to come, and they can even be machine washed and dried for continual beauty.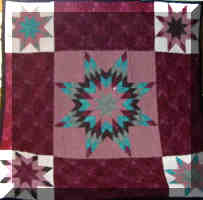 Star Quilts come in crib, lap, single, double, queen and king sizes as well as pillows so you can be sure to find one that best suits your needs.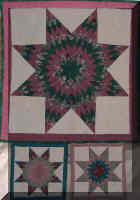 To the left is an example of a king-size, and to the right a lap quilt with pillows.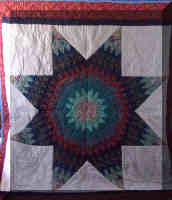 Star Quilts are great for weddings, anniversaries, graduations, new births, ceremonies and giveaways.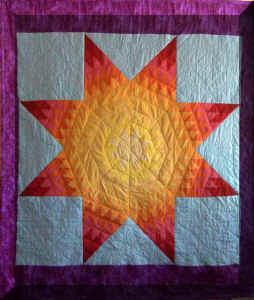 Each Quilt is made to order so please allow 4-6 weeks for delivery. When we receive your order, an estimation of a shipping date will be given.
Direct your questions concerning Star Quilts to:
support@nativeamericantrade.com
This page has been viewed
times since last reset